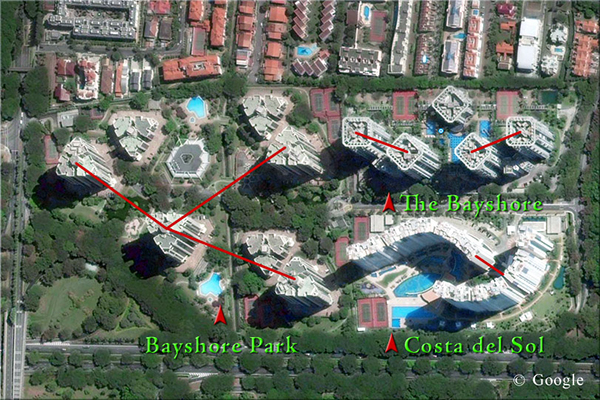 What is so Unique About the Bayshore Park Lifestyle?
Living in Bayshore Park has numerous benefits, but one benefit that clearly stands out is SPACE:
• By today's standards, all unit types offer spacious rooms.
• All units have balconies to enjoy the fresh sea breeze.
• The distance between the towers is very large, offering unblocked views and privacy.
• Bayshore Park has one of the largest gardens in any condo in Singapore.
• The large piece of land allows for plenty of facilities.
• The satellite picture below is self-explanatory: look at the large distances between the towers and the massive amount of land surrounding our towers.
This space, combined with ample facilities and excellent location: close to the airport, the central business district, and the East Coast Park, gives us a unique resort style living that cannot be found anywhere in Singapore. As a bonus, Bayshore Park's architecture makes it look much younger than it actually is. Just compare Bayshore Park's architecture with Laguna Park or Ocean Park...
Get In Touch
Interested in renting or buying in Bayshore Park? Get in touch with us and we will get back to you at the earliest!